The Workers Social Security Agency (BPJS Ketenagakerjaan) recently announced that it was ready to develop what it calls a landmark or an open green space in Gianyar, Bali.
This statement was marked with the ceremonial signing of a partnership agreement for the development of the local Kebo Iwa Sports Center into the BPJS Ketenagakerjaan Open Green Space.
The signing ceremony, held on Monday in Gianyar, saw the partnership being signed and officiated by BPJS Ketenagakerjaan president director Agus Susanto and Gianyar Regent A.A. Gde Agung Bharata.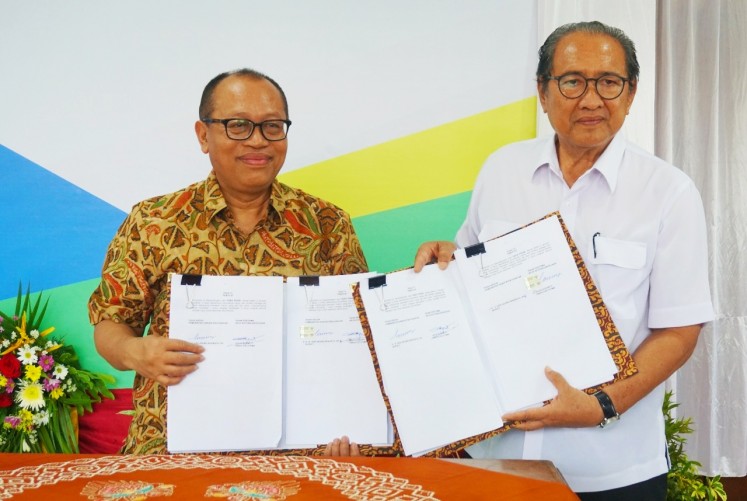 This event served as a follow-up to the signing of a memorandum of understanding in Oct. 2017 to develop the landmark.
"We continue to fulfill whatever the public needs. One of them is building a landmark that we plan to start soon," Agus said.
This program is an application of the agency's social and environmental responsibility views. The building, aside from being a green space, will also contain a child-friendly integrated public space that will serve as a recreational area, as well as serve as a way to educate people about BPJS Ketenagakerjaan.
Out of the 27,000 square meters of space, some 13,000 sqm — which will be worked on by the agency — will be filled with facilities that people of all ages can use. These facilities include a city garden, a children's playing area, an amphitheater, a food court, a sports area, a skating park and a media corners where people can learn about the agency.
"We hope that this landmark can be a good way of educating the public about the benefits of BPJS Ketenagakerjaan and serve as an added value for tourism in Gianyar by becoming the heart of the city. After this we will begin a partnership with the Makassar city government," Agus said.
Source :