Participants of the National Health Insurance (JKN) program can now let out a sigh of relief as healthcare services return to normal after the Health Ministry ordered the Health Care and Social Security Agency (BPJS Kesehatan) to re-establish ties with dozens of hospitals.
Earlier this month, BPJS Kesehatan terminated its contract with hospitals that had yet to be accredited by the Hospital Accreditation Committee (KARS), including some in Greater Jakarta.
The decision triggered confusion among patients who had to find healthcare providers that were still under contract with BPJS Kesehatan. The agency said at the time that the decision to sever ties had been driven by its ballooning deficit problem.
The Health Ministry later issued a recommendation that encouraged the agency to extend its cooperation with as-yet unaccredited hospitals to ensure that participants of the National Health Insurance-Indonesia Health Card (JKN-KIS) program could receive uninterrupted healthcare services.
"We give leeway to these hospitals […] as long as they are committed to completing the accreditation process within six months," Health Minister Nila Moeloek said on Monday.
As of December 2018, 2,217 hospitals had signed a contract with the BPJS to provide services under the agency's terms. Out of the figure, 1,759 hospitals are accredited.
The Health Ministry said that 341 unaccredited hospitals have committed to finishing the accreditation process by June 30 this year.
BPJS Kesehatan maintained that accreditation was key to protecting patients and ensure they receive quality healthcare services.
Its decision to terminate dozens of contracts was the most recent in a string of obstacles the agency has experienced in recent years.
Although more than 200 million participants of the JKN-KIS program may feel relieved that they once again have access to their usual hospital, BPJS Kesehatan continues to be in dire financial straits because of its ballooning budget deficit.
In 2018, it recorded a Rp 16.5 trillion (US$1.17 billion) budget deficit, which was it blamed on low premiums charged to participants.
BPJS Kesehatan president director Fachmi Idris said the premiums were not enough to cover patients' claims.
The government recently offered a capital injection of Rp 4.9 trillion to help cover the deficit.
Fachmi has earlier said that BPJS, in cooperation with the Health Ministry, Finance Ministry and other stakeholders, are seeking ways to reduce the deficit problem this year. One of the ways proposed to plug the deficit was to use tobacco excise revenue to pay for the shortfall.
President Joko "Jokowi" Widodo issued a presidential regulation in September last year that would channel funds from the government's tobacco excise to help plug the deficit.
Besides relying on assistance from the government, BPJS Kesehatan has unveiled a scheme in which it would not pay for the medical treatment of patients who are covered by other insurers.
"If participants are involved in traffic accidents, for certain cases, [the claim] would be covered by insurance companies. For workplace incidents, the claim can be solved by institutions responsible for that," Fachmi said in a recent interview.
The agency also plans to improve its fraud mitigation system and strategic purchasing management, he said.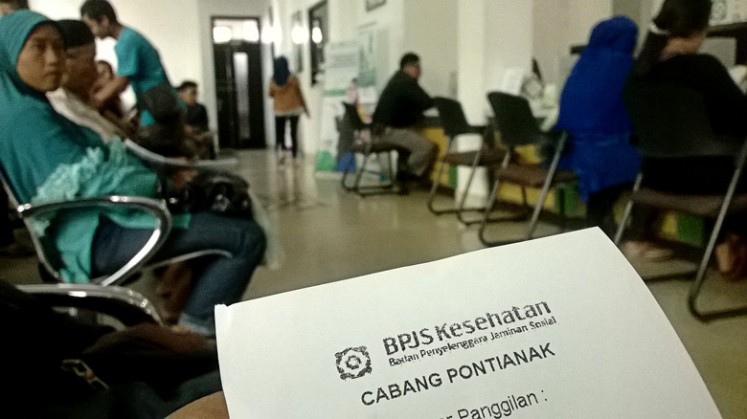 BPJS Kesehatan's deficit problems have resulted in late payments to hospitals, which led to delayed payments from hospitals to pharmaceutical distributors, which in turn hurt the cash flows of pharmaceutical companies.
Indonesian Pharmaceutical Association (GP Farmasi) executive director Dorodjatun Sanusi said pharmaceutical companies did not run a profitable operation by joining healthcare programs managed by BPJS Kesehatan.
"We [pharmaceutical companies] don't talk about profit anymore. The prices [of medicine] were very low, payments are uncertain, and we also have to pay taxes upfront," Dorodjatun told The Jakarta Post.
He added that hospitals were sometimes more than a year late in making payments.
GP Farmasi now allows its members to decide individually whether to continue to support BPJS Kesehatan or not.
State-owned pharmaceutical company Indofarma acknowledged that the delayed payments from hospitals had affected the company's cash flows, but given its status as a state-owned company, it will continue to support the JKN program.
"Now, we have to adjust our business portfolio so that we don't have to concentrate on the BPJS," said Indofarma finance director Herry Triyatno.
Meanwhile, Kalbe Farma president director Vidjongtius said profit that the company accrued from the JKN program had declined but the firm expressed its commitment to supporting the program this year, as it is committed to providing the Indonesian people the medication they need.
Source :