The Indonesian economy is offering some cheer to President Joko Widodo as he gears up to run for a second term, but he's still got a long way to meet his growth promises.
Gross domestic product rose 5.3 percent in the second quarter from a year earlier, the statistics bureau said in Jakarta on Monday. While that was better than the 5.1 percent median estimate in a Bloomberg survey, and is the fastest pace since 2013, it's nowhere near the 7 percent goal Widodo set for himself when he took office in 2014.
Widodo, known as Jokowi, is under pressure to protect the $1 trillion economy from a deepening emerging-market rout and a widening current-account gap. He's shoring up foreign-exchange reserves to support a currency that's weakened more than 6 percent this year.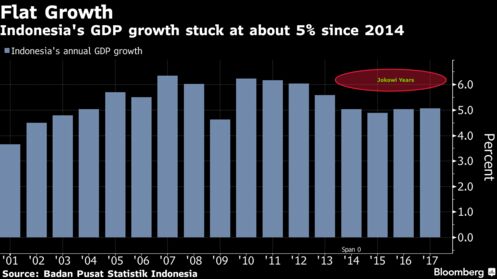 "Any politician seeking re-election wishes to see a high GDP growth," Satria Sambijantoro, an economist at PT Bahana Sekuritas in Jakarta, said in a note. But the president "might have to settle with modest GDP growth numbers" to keep economic stability, he said.
Time is running out for Jokowi to stimulate the economy as the presidential and parliamentary elections approach next year. He will begin campaigning for a second five-year term next month, most likely against Prabowo Subianto, chairman of Indonesia's main opposition party Gerindra whom he defeated in 2014.
The currency was little changed at 14,485 per dollar while the benchmark stock index extended its gains to 1.4 percent after the data was released.
There are signs the consumer sector, which has held back growth, is improving. Growth in household spending, which accounts for more than 55 percent of the GDP, accelerated to 5.1 percent last quarter.
PT Kalbe Farma, a pharmaceutical company, expects a recovery in purchasing power even as it remains wary of risks from the currency. The Association of Indonesia Automotive Industries is optimistic sales will rise to 1.1 million units this year from 1.08 million last year.
"We saw sales increase in terms of vehicles for commercial purposes," Jongkie D. Sugiarto, co-chairman of the association, said in an interview. "It seems companies are in full operations again."
There is reason to be cautious in the outlook. The central bank has increased its benchmark rate by 1 percentage point since May to help stabilize the currency, a move that banks like Goldman Sachs Group Inc.say will curb growth.
Nomura Holdings Inc. said it's keeping its 2018 growth forecast of 5.4 percent.
"We continue to expect a gradual improvement in headline growth in coming quarters due to a sustained recovery in private investment," economists Euben Paracuelles and Brian Tan said in a note.
"In addition, we expect more progress on public infrastructure spending, especially given signs of a greater willingness from government to use its sizable fiscal space to support growth with a more expansionary fiscal stance," they said.
Source :