Palm oil production in Indonesia will probably climb to a record this year as wet weather boosts yields in the world's top grower.
Output will increase 10 percent in 2018, Togar Sitanggang, secretary-general of the Indonesian Palm Oil Association, said on Tuesday, without providing a more specific forecast. Production climbed about 18 percent last year to a record 38.2 million metric tons, he said. Total production, including palm kernel oil, rose to 42 million tons from 35.6 million tons in 2016, Sitanggang said.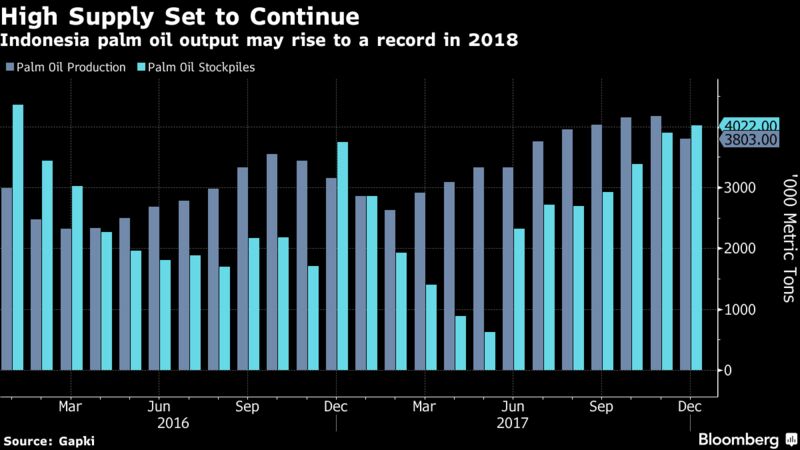 Palm oil, used in everything from chocolate to shampoo, slumped 19 percent in 2017 as inventories increased and India raised import duties, curbing purchases by the world's biggest buyer. Futures are little changed this year as concerns about elevated stockpiles and weak demand remain.
Indonesia may have another wet year due to La Nina, which could help boost productivity, Sitanggang said. Regional elections may also help boost domestic consumption as political parties will hold gatherings that include food, he said.
Global Supply
Palm oil reserves stood at 4.02 million tons in December, Gapki said. That compares with a median estimate of 3.4 million tons in a Bloomberg survey last week. Annual exports increased 23 percent to 31.05 million tons last year, it said.
Global palm oil production is set to reach a record in 2018 as the yield-sapping effects of the 2015-16 El Nino finally dissipate. Supply will increase between 5 million and 6 million tons this year, according to LMC International Ltd. Chairman James Fry, who predicted Indonesian output at 40 million tons and Malaysian production at more than 21 million tons. Thomas Mielke, executive director at Hamburg-based Oil World, says world palm oil production will rise about 2.6 million tons to 70.1 million tons.
Source :