In a rare moment in the lead up to the 2019 presidential election, President Joko "Jokowi" Widodo and his political nemesis, Prabowo Subianto, ended up having a group hug while celebrating the victory of a pencak silat athlete during the Asian Games in Jakarta on Wednesday.
Hanifan Yudani Kusuma, who won a gold medal in pencak silat in the final of the men's Class C (55 kilograms to 60 kg) on Wednesday, united the two presidential rivals through a group hug when he came to their VVIP seats to greet them after his victory.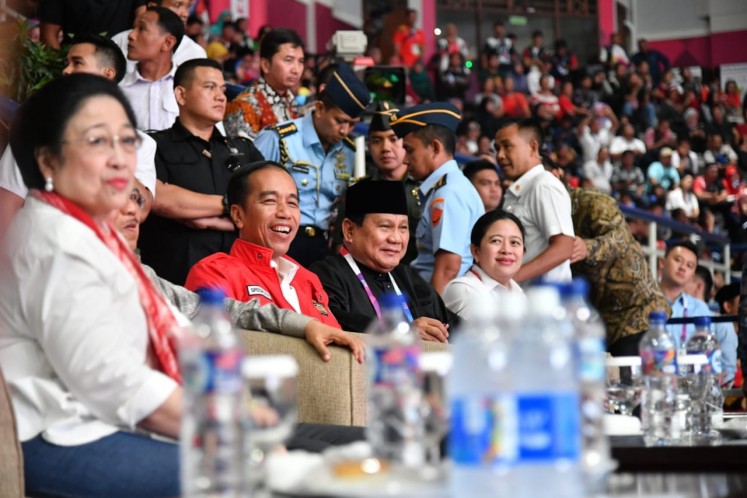 Wearing a red sports jacket, Jokowi sat side by side with Gerindra Party chairman Prabowo, who attended the sporting event in his capacity as the Indonesian Pencak Silat Association (IPSI) chairman.
Hanifan came to Jokowi and hugged him briefly before hugging Prabowo. Afterward, the athlete extended his hand to Jokowi and pulled him in for a group hug with Prabowo.
The moment immediately garnered applause from the audience as well as officials in the VVIP seats, including Vice President Jusuf Kalla and Coordinating Human Development and Culture Minister Puan Maharani.
Jokowi later posted a picture of the group hug on his Instagram account and congratulated Hanifan and the 14 pencak silat athletes who won gold medals for Indonesia.
"The three of us – Hanifan, myself and Pak Prabowo – hugged each other under the cover of the Red and White," Jokowi said in the caption of the post, referring to the Indonesian flag that Hanifan draped around his back.
Jokowi and Prabowo, who competed against each other in the 2014 presidential race, are set to have a rematch next year. Jokowi is paired with non-active Indonesian Ulema Council (MUI) leader Ma'ruf Amin, while Prabowo will run with former Jakarta deputy governor Sandiaga Uno.
Source :