"Indonesia's wealth is no longer just about natural resources. Indonesia has extraordinary wealth that has to be developed to face global competition. It is art and culture."
President Joko "Jokowi" Widodo made this statement when he gave a public lecture in front of thousands of art and culture students from several universities across Bali at the Indonesian Arts Institute (ISI) Denpasar, on Saturday. Lecturers from several arts institutes across the country attended the public lecture.
"I've often conveyed that the wealth of our nation is no longer just about natural resources. We have an extraordinary source of wealth, namely art and culture," Jokowi emphasized.
"We have 714 tribes that have different types of cultures, arts and traditions. It means, we have at least 714 energy resources we can develop in creative ways. We have 714 inspirational resources to make a jump in the field of art and culture."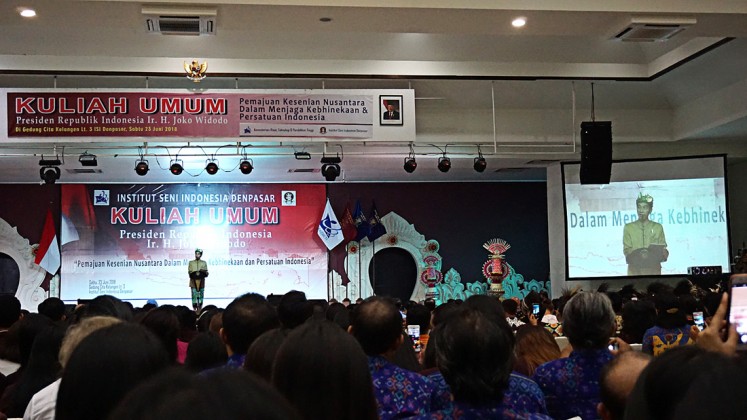 Jokowi said art and culture was a strength of Indonesia's that other nations did not have.
He said the government's attempt to build infrastructure across the country was part of its attempt to build civilization and connectivity.
"When we build physical infrastructure, do not perceive it as only physical infrastructure or economic development. Many people wrongly understand it. The most important part of physical infrastructure development is cultural infrastructure development, infrastructure that will unite 714 tribes from the archipelago," Jokowi stressed.
He promised that infrastructure development would advance art and culture in society. (ebf)
Source :