For history enthusiasts, the Reenactor Museum in Sumbersari subdistrict, Malang, East Java, is a must visit destination.
The museum displays historical items owned by members of the reenactor community who live around the area.
One of the museum's volunteers, 45-year-old Eko Wirawan, said that the community established the museum to share knowledge about Indonesia's struggle for independence from Dutch occupation in Malang after winning a thematic kampung project to manage a government-owned 8 by 10 meter building built in 2017.
Between 1947 and 1949, when the Dutch attempted to regain control over Indonesia following the end of World War II, the subdistrict served as the City Guerrilla (GRK) headquarters led by captain Soemitro and mayor Hamid Rusdi, said Eko.
The museum's collection is displayed in three sections: a diorama and items used during the Yogyakarta March 1, 1949, attack; the Pacific War between Japan and the United States; and the struggles of fighters in Malang and the surrounding area.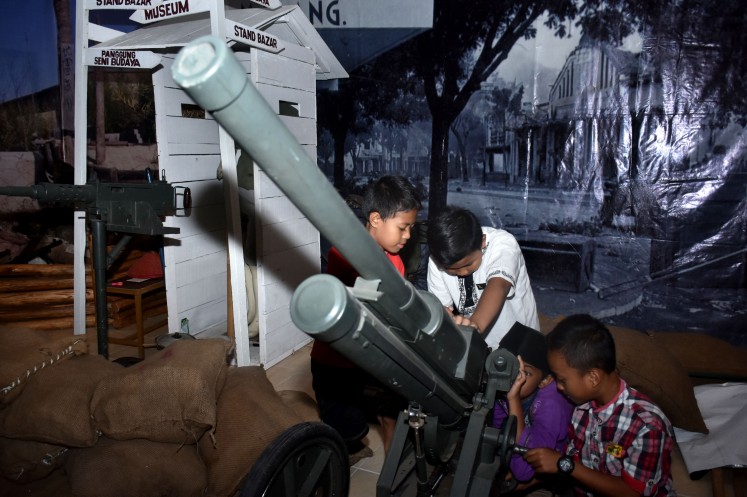 Among the collection are gerobok (wooden box), which were used to store food and weapons, the fighters' clothing, onthel (classical) bicycle, history books, guns and samurai and traditional weapons.
"The replica weapons were made using recycled materials such as iron and pipes," said 48-year-old Mulyono, also a volunteer member of the museum who works as a construction laborer. "We are open to donations or items lent by people who would rather share them here than store them at home."
Eko said the museum's collection would be changed regularly to continue attracting visitors, including the historical events featured.
"It would be very dangerous if children did not know their own country's history. At least it will offer a place where they can play and learn and discover the struggles faced by the heroes of their region," said Eko.
The museum is open every day from 9 a.m. to 5 p.m.. Admission is free.
Source :