Dressed in Muslim attire and black peci (cap), Nurhadi puts on a serious face next to Aldo in many images appearing on social media, looking like the politicians who have flooded the internet ahead of the 2019 legislative and presidential elections.
But they are not. Nurhadi says he is a 50-year-old traditional masseuse from Kudus, Central Java, while Aldo is a fictional character.
He and a group of internet users have set up the prank presidential campaign of fictional ticket Nurhadi-Aldo since Christmas and New Year holiday, posting jokes alongside Nurhadi's uptight posture with hands firmly placed on his chest.
The slogan they created for the campaign is "Dildo for Indonesia". Dildo, of course, stands for Nurhadi and Aldo.
In a social-media dependent society like Indonesia that has been gripped by the presidential campaign, the prank social media account instantly garnered hundreds of thousands of followers with many of their posts going viral.
The hashtag #McQueenYaQueen (Becoming More Convinced) that they coined for the campaign, were among top trending topics on Twitter this week alongside those created by presidential campaign supporters such as #JokowiAminLebihBaik (Jokowi-Amin Is Better) and #PrabowoSandiSaja (Just Choose Prabowo-Sandi).
One of the posts on the official Facebook page of Nurhadi-Aldo is a colorful poster uploaded on Saturday, in which the pair promised that once Nurhadi is elected as the president "the farmers will be recruited as civil servants. That way the farmers will be prosperous and their children should not have to go to the city anymore".
A Facebook user, Hamsah Al Pasai, commented on the post that "there will come a time when Indonesian children dream of working as a farmer. I support you to serve the nation for 15 periods, sir".
One of the initiators of the campaign, who refused to reveal his name, said the team behind the prank was eight youngsters who met in a community on Facebook.
"We have discussed this idea for months but we only started to work on the posters and content in June and finally realized it in December," the university student, who lives in Jakarta, told The Jakarta Post on Saturday.
He said he and the team never personally met Nurhadi and only knew each other through Facebook. Nurhadi, who has been posting random jokes, already had many followers before they initiated the campaign.
The idea came about because the group was concerned about the heated debate between the supporters of presidential candidates Joko "Jokowi" Widodo and Prabowo Subianto on social media that often triggered hateful comments.
"Election day is just around the corner and we see more people fight against each other over their presidential candidates. We want to be here to reduce the tension. We can all gather and laugh together," said the 23-year-old.
He denied that he is affiliated to any political party or presidential campaign team.
Indonesia is one of the countries with the highest number of Facebook, Instagram and Twitter users in the world.
The country will have legislative and presidential elections in April with more than 192 million people on the electoral roll. The Elections Supervisory Agency (Bawaslu) estimated that 42 percent of the voters aged 17 to 35 years old and familiar with internet, making social media a critical part of the election campaign that began in September.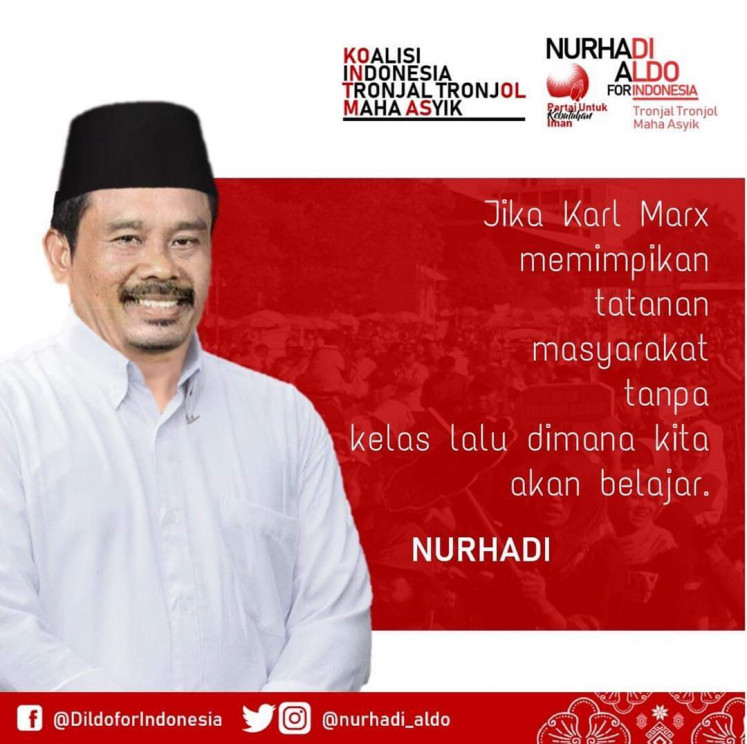 Agus Sudibyo, the executive director of Indonesia New Media Watch, said the viral phenomenon was powered by a group of attention seekers who are trying to benefit from the presidential election campaign season.
"I doubt the motive and success of this whole movement in distracting people from joining the heated debates between presidential candidates. I can't see it changing anything about the rivalry between the candidates' [supporters]," he said.
Nurhadi, who said he was just closing his massage practice when contacted by the Post on Saturday afternoon, said he did not mind that his image was being used for the prank campaign. The father of four children also seemed to enjoy the attention since he went viral.
Many people visited his massage therapy clinic in Golantepus village to take pictures or make a video with him.
"I hope we can bring joy to everyone. Let's stop fighting. Anything that we choose on election day is our personal choice and we have to respect [others' choices]," he said.
Source :