The sudden resignation of Indramayu Regent Anna Sophana has brewed controversy in West Java. She was not only considered the matriarch of a political dynasty that has controlled the regency for almost two decades, Anna also made the decision just months before the 2019 general elections, risking isolating her family from politics.
The Indramayu Legislative Council (DPRD Indramayu) confirmed on Wednesday her resignation at a plenary meeting – without her presence. The council members read out and then approved her written statement, which has also been submitted to the West Java administration.
"We will send our confirmation to the Home Ministry and ask for an acting official [to replace her]," said council speaker Taufik Hidayat of the Golkar Party.
Questions still linger about her decision, which was revealed only through a letter to the West Java administration and the council in late October. She reportedly cited "family affairs" as the reason behind her decision.
Home Minister Tjahjo Kumolo said he had also been surprised by the decision. "We are sending a team to demand clarity, to know her considerations. She was chosen by the people. She cannot walk away just like that," he said on the sidelines of an event in Jakarta.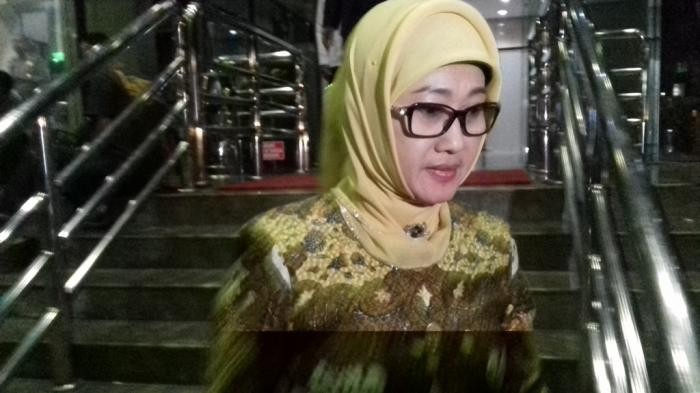 The 60-year-old regent has recently welcomed her husband, Irianto "Yance" Syafiuddin, home after being released from two years in prison for corruption. Yance was a Golkar politician who had led Indramayu for 10 years before he was convicted in a graft case related to the land acquisition for a coal-fired power plant in the regency.
The couple has three children. Son Daniel Mutaqien is on track to inherit the family's political legacy and is currently serving as a Golkar lawmaker and head of the party's Indramayu chapter. He is looking for another term at the House of Representatives in the 2019 polls.
The family's uphill journey in politics began last year when Daniel gained permission from the party's central board, then under graft convict Setya Novanto, to run alongside Ridwan Kamil, then-Bandung mayor who was eyeing the province's top post.
His nomination was challenged by Dedi Mulyadi, current chairman of West Java's Golkar chapter, who was also planning to run.
After Setya was arrested in the e-ID corruption case, the second-largest party at the House and also a major supporter of President Joko "Jokowi" Widodo, withdrew its support of Daniel and instead backed Dedi's run with then-deputy governor Dedi Mizwar, who is from the Democratic Party.
Vice President Jusuf Kalla, a close friend of Daniel's father and who had testified in his defense, criticized Airlangga Hartarto, the new party chairman who replaced Setya, for the decision. Kalla said such changes would damage the party's credibility.
Others accused Airlangga of returning the favor from Dedi, who had supported him during the party's chairman election. The industry minister has denied the claims.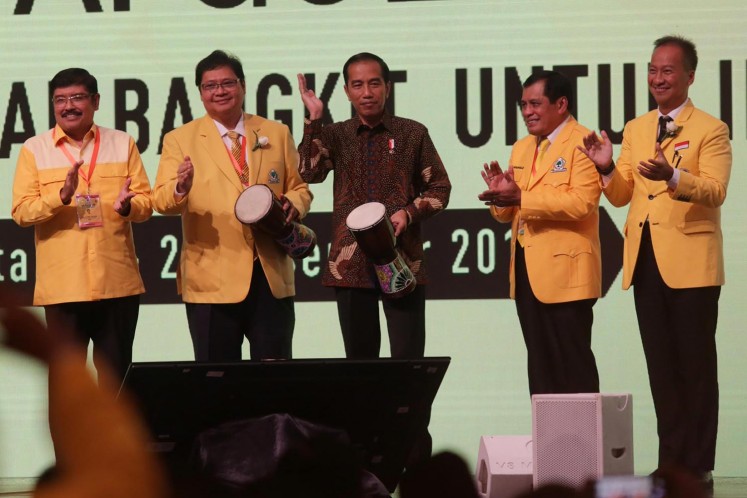 Ridwan later won the West Java gubernatorial election alongside Uu Ruzhanul Ulum, former Tasikmalaya regent and a member of the United Development Party (PPP).
But the battle is not over for Golkar, which must now compete with other political parties to win the country's most populous province of 32 million voters.
Although both Dedi and Daniel have declared their support for Jokowi, Golkar still has to struggle in the legislative and presidential elections amid waning popularity in the province.
A recent survey from the Indonesian Survey Institute (LSI) showed that the Gerindra Party is the strongest party in West Java with an electability of 20 percent. Jokowi's supporters, the Indonesian Democratic Party of Struggle (PDI-P) and Golkar, earned 17 percent and 11 percent, respectively.
Daniel denied rumors of a political motive behind his mother's resignation. He further explained that Anna had to take care of her ailing father and husband.
"They need her full attention. She made the decision with a heavy heart," he said on his Facebook account.
Airlangga said he was also in the dark about her resignation and would summon her for an explanation.
"Yesterday, it was only revealed that [she wanted] to concentrate on family affairs," he said.
The party chairman also plans to summon Deputy Regent Supendi, who is also a party member, who will replace Anna.
Source :