Presidential hopeful Prabowo Subianto and his running mate Sandiaga Uno have released their platform for the 2019 election, titled Indonesia Adil Makmur (Fair and Prosperous Indonesia). Detailing the pair's programs for the next five years, the platform is included in 15 pages of a so-called blue book.
Besides the pair's platform, the blue book also includes short biographies and a frequently asked questions (FAQs) section for both Prabowo and Sandiaga.
The grand vision is "to create an Indonesia that is fair, prosperous, dignified, politically sovereign, economically independent and with strong national characteristics, as well as to guarantee harmony among citizens regardless of ethnicity, religion, social and racial background based on Pancasila and the Constitution".
Prabowo-Sandi has divided the platform into seven main parts: the economy, human development, food and energy sovereignty, social programs, infrastructure development, environmental protection and government.
Here are the key summaries of Prabowo-Sandi's Fair and Prosperous Indonesia platform:
1. Economy
The pair has put forth the concept of people-centered development, aimed at creating jobs, increasing purchasing power and developing infrastructure in villages and the farming sector. The platform mentions the aim of increasing the quality of economic growth by focusing on inequality, GDP per capita and the human development index (HDI).
The implementation of the people's economy includes, among other elements, modernizing traditional markets, encouraging the growth of micro, small and medium enterprises (MSMEs) and cooperatives, as well as increased funding for the agricultural, forestry, fisheries, maritime and husbandry sectors. Agriculture and village industries are mentioned as instruments to promote development by creating new economic centers.
State-owned enterprises (SOEs) are described as a "fortress of national economic resilience" and as the state's tool to intervene in the market. The pair aims to stop "leakages" in natural-resources management by building raw-material refineries, promoting value-added exports and in trade by preventing "misinvoicing" in export books. National banks are expected to provide funding for farmers, fishermen, labor, MSMEs and traditional traders.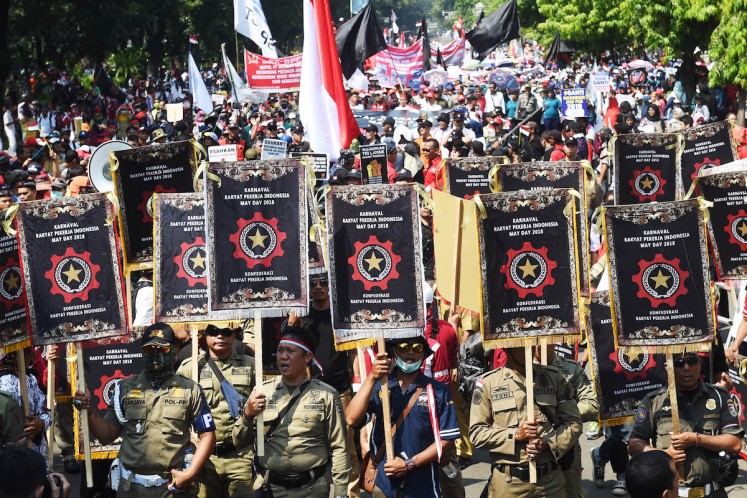 Appealing to labor, Prabowo-Sandi promises to prioritize local workers over foreigners, as well as revoking Government Regulation No. 78 2015 on wages and to stop outsourcing in order to deliver better welfare.
Prabowo-Sandi guarantees affordable public transportation for labor and poor people, stipulated in a law for public transportation motorbikes and the right to unionize for online ojek (motorcycle taxi) drivers.
Indonesia is envisioned as a center for Islamic finance and Muslim creative industry. The pair also promises to support startup development and have "wiser" debt and loan management.
2. Human development
The White Revolution, a program from Prabowo's 2014 platform, is once again set out as a tool to reduce malnutrition, and stunting in particular. The White Revolution in agriculture refers to a program in India that increased milk consumption in the country in the 1970s. The pair will also focus on "the quality of families" through poverty-alleviation programs and education and healthcare services.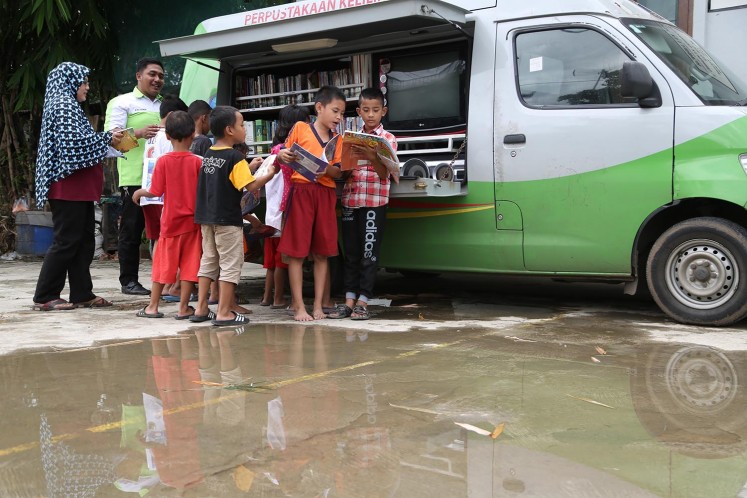 Literacy is a key to the human-development program, along with education. Aiming to increase literacy, the pair promises to provide libraries and reading parks in villages. On the larger scale, Prabowo-Sandi aims to revise tax policies for the publishing industry in order to make books more affordable and also to guarantee better welfare for writers.
The objective of improving educational quality begins with increasing teachers' welfare and education budget efficiency, including scholarships according to the platform. Aside from vocational school development, the pair will introduce a remote education program for students in poor and remote areas and a leadership program through the National Strategic Leadership School.
The national education system should uphold national character building, with eight main characteristics: religious, moral, healthy, smart and creative, hardworking, disciplined and orderly, independent and beneficial.
3. Food and energy sovereignty
To achieve food and energy self-sufficiency, the pair will open up 2 million hectares of land. The key commodities in the food-sufficiency program are rice, corn, sago, soybeans and sugarcane while in the energy-sufficiency program, the key produces are palm sugar, cassava, yam, sago, sorghum, coconut and other bioethanol materials. The pair also aims to increase the production and consumption of dairy and fishery products, in line with Prabowo's White Revolution program.
Agrarian reform will be continued for better farmer welfare and increasing productivity in the agriculture and forestry sectors. The pair will boost fertilizer production, maintain price stability and provide technical and facilities support.
The pair aims to restore mining and oil and gas management in accordance with Article 33 of the Constitution. The development of oil refineries, ethanol factories and gas terminal plant and distribution will be led by both SOEs and private firms. State-owned electricity form PLN will be expected to convert to cleaner energy.
4. Social programs
The social programs include free health care, with an emphasis on pregnant women, eradicating human and drug trafficking, protection for women, children and vulnerable groups, revitalizing the role of the Family Welfare Movement (PKK), integrated health service posts (Posyandu) and community health centers (Puskesmas), continuing the family planning (KB) program, conserving art and cultural heritage and achieving better in national sports.
5. Infrastructure development
Prabowo-Sandi promises to accelerate infrastructure development, especially on the outer islands of the archipelago, through increasing budget transfer allocations from central government to regional governments. Cyber security infrastructure is mentioned but not in detail.
The pair promises house-ownership programs, including land banking and low-cost apartment units (rusunami).
6. Environmental protection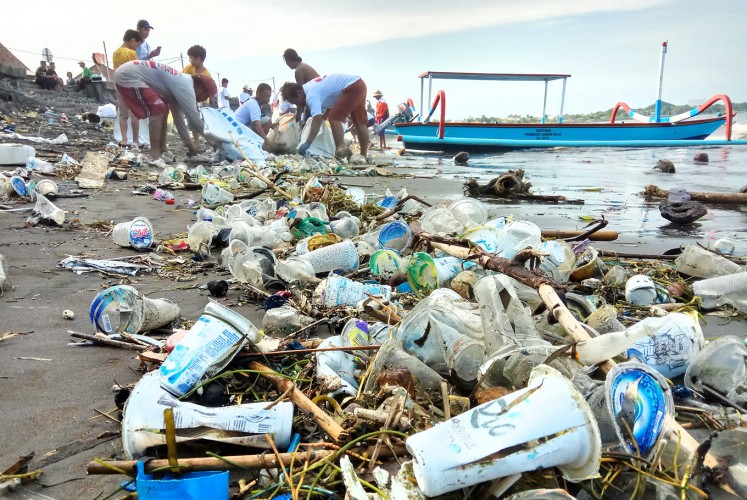 The programs in environmental protection include prevention and punishment for polluters, the development of city forests, rehabilitation of deteriorated forests, eco-friendly mining activities and recycling for plastic waste. The pair also aims to increase the certification of forest products to meet international standards.
Climate change mitigation efforts are mentioned without further elaboration.
7. Government
Prabowo-Sandi promises to uphold the rule of law and law enforcement without discrimination and states that "the law is not a political tool". Bureaucratic reform will continue and the pair promises better welfare for state employees as well as greater efficiency in running the government. Corruption eradication efforts in the bureaucracy will be enacted through open and accountable management in cooperation with the Corruption Eradication Commission (KPK), the police, military, and judicial institution.
Better welfare for the military and police is promised. A former military general himself, Prabowo does not elaborate much on security and defense except for promising weaponry system updates and military modernization.
The pair's foreign policy program is limited to sticking with the free-and-active foreign policy and participation in global peacekeeping efforts, while focusing on the Palestinian and Rohingya issues.
Source :