Indonesia's stalled campaign to remove some of the zeros from its currency has added to the panic every time the rupiah weakens, according to PT Bahana Sekuritas.
The nation's parliament has so far this year failed to discuss a long pending bill on rupiah redenomination, which will allow dropping three digits from the currency as sought by Bank Indonesia. A parliamentary approval would have put the the country on an 11-year transition period.
"We believe this played a part behind the unnecessary panic every time the rupiah weakened, or when it hovered near psychological levels versus the dollar like 15,000 that was last reached in 1998," economists Satria Sambijantoro and Ananka said in a note Thursday.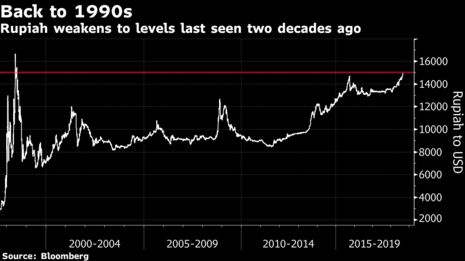 Indonesia's currency is trading near the 15,000 level that was last reached during the Asian financial crisis two decades ago. It is among the worst performers in Asia this year, losing almost 9 percent against the dollar.
Source :